Nov Update – coming soon … PTA Holiday Gift Shop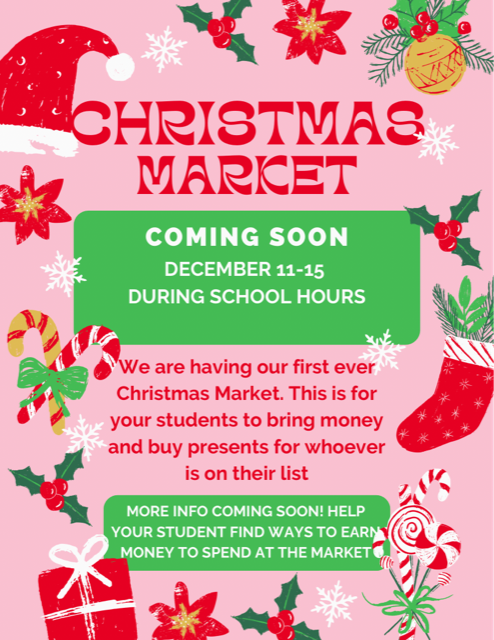 Wildcat Families — 
Just wanted to share a quick update. Our recent EGG DROP was a huge success! Thank you for supporting our school in such a powerful way. Our teachers, school staff, PTA all feel so much gratitude for your willingness to support your students so strongly. At our PTA meeting today the money raised was discussed and so many good things will be happening in our classrooms and throughout our school that will have a direct impact on your child. Thank you, thank you, thank you!
PTA is adding some holiday excitement this year with a Holiday Gift Shop (see info above). Much more information will be coming, but you can start having your student(s) earn money now so they can shop for gifts for family and friends on their own. I think it is going to be a good addition to our school. 
Our school has a leadership and service club that has just started called the "Classy Cats" led by our School Counselor Angela McKean. They will be conducting a food drive in the coming weeks … watch for more information to come!
The first trimester of the school year will be ending this Friday, November 10. Student progress reports will be sent home sometime during the following week, so pay attention to your classroom information on when you can expect those to arrive at home!
Speaking of report cards, the Utah State Board of Education (USBE) recently released the school report cards for the 2022-23 school year. Those can be found here: https://reportcard.schools.utah.gov/ – Crimson View Elementary received "Exemplary" marks. 
We're in the midst of the fall/winter trifecta … Halloween, Thanksgiving, Christmas … certainly lots of fun and exciting for our students, but exhausting as well. Thanks for your support and helping our school be exemplary!
Adam Baker (Principal)
Looking Ahead: (https://cves.washk12.org/calendar)
Nov 1~21 – Dixie Direct Books Available for purchase in Office (https://www.dixiedirectcard.com/schools/crimsonviewelementary/)
Nov 10 – 9:30am – [5th Grade] Veterans Day Program (parents)
Nov 10 – End 1st Trimester (report cards home Nov 13~17)
Nov 13~21 – [Classy Cats] Food Drive
Nov 22~24 – Thanksgiving Break (No School)
Nov 27 – Teacher Prep Day (No School)
Dec 5 – 3:45pm – School Community Council Mtg
Dec 6 – 12pm – General PTA Mtg